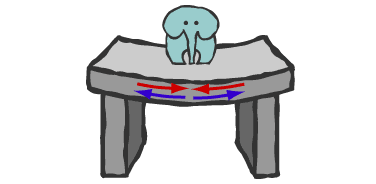 When something pushes down on the beam, the beam bends. Its top edge is pushed together, and its bottom edge is pulled apart.

Every bar in this cantilever bridge experiences either a pushing or pulling force. The bars rarely bend. This is why cantilever bridges can span farther than beam bridges.

In all suspension bridges, the roadway hangs from massive steel cables, which are draped over two towers and secured into solid concrete blocks, called anchorages, on both ends of the bridge. The cars push down on the roadway, but because the roadway is suspended, the cables transfer the load into compression in the two towers. The two towers support most of the bridge's weight.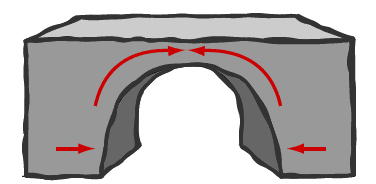 The arch is squeezed together, and this squeezing force is carried outward along the curve to the supports at each end. The supports, called abutments, push back on the arch and prevent the ends of the arch from spreading apart.
Resources on bridges from PBS including...
In addition, a list of links to information about some of the world's biggest and best bridges is available.
California Geological Survey - Online Maps and Data
MAGIC: Map and Geographic Information Center
California 30-minute Topographic maps
TopoZone - The Web s Topographic Map and more!
MapQuest.Com Maps, Directions and More
The BridgeSite - Fun and Learning
BUILDING BIG: All About Bridges
http://www.pbs.org/wgbh/buildingbig/bridge/index.html
BUILDING BIG: Databank: Search
http://www.pbs.org/wgbh/buildingbig/wonder/index.html
Build It & Bust It: A Webside Construction Zone
Bridges Project - Rice University - Awesome searchable database of bridge information
Check out these bridges...
Bridge Designer (On-line Free)
This program allows you to design and test trusses. Trusses are composed of straight members connected at their ends by hinged connections to form a stable configuration.
West Point Bridge Designer (Free - PC only)
This software will introduce you to engineering through an authentic, hands-on design experience. WPBD 2003 provides you with the tools to model, test, and optimize a steel highway bridge, based on realistic specifications, constraints, and performance criteria.
CyberBee: Fun with Science: Bridges, Bubbles, and Boulders
BUILDING BIG: Webography: Bridges
Mrs. Herook, Building Bridges Resource Page -